When you choose heavy-duty rolling steel doors, there's a lot to think about. Will it open and close smoothly? Is it going to be simple to install? The last thing you want is a malfunctioning door.
Whether it's for your business, public storage facilities, truck loading bays, warehouses, or residential property, our variety of doors can suit all your needs. Our rolling steel fire doors provide a great level of safety. Our doors are secure, durable, and engineered to match our customers' needs in even the most demanding environments.
What Is a Roll-Up Door?
Steel, stainless steel, or aluminum roll-up shutters are the usual options for maximum durability in Miami-Dade County. They are put in place where security and durability are essential such as in warehouses, factories, storage units, and garages.
The design team can customize rolling steel doors to your specifications. You could also install extra features such as insulation, windows, and ventilation. An automatic commercial overhead door, roll-up door, or garage door provides a smooth cycle.
Our commercial overhead door models are optimizable for daily use, and the coiling door design enables them to handle 50,000 cycles. With their durable construction, they can face the wind load and any other hazard.
An economical alternative would be the curtain doors. During installation, they can be fitted with a light for safety. The light sends a signal in a line from one side to another. If someone crosses it, the door stops closing and opens, ensuring no injuries happen.
How Do Roll-up Doors Work?
Many of our aluminum and steel sectional doors have small horizontal parts positioned on the sides. Slats or panels are connected by hinges, allowing the door to bend as it rolls up and down.
The barrel or drum is attached to torsion springs that help balance the weight of the door, allowing the door to open and close smoothly. The door is operated by pulling on a chain or via a motor that rolls the door up or down. When the door is closed, the slats or panels interlock to form a solid barrier.
Rolling doors come in various models. Most roll-up doors are automatically operated to provide a smooth operation as opposed to the chain hoist operation typically found in garage doors.
What Type of Rolling Door Do You Need?
The type of rolling doors you require will depend on location, size, and security needs. You need to know if you are looking for high-speed rubber doors, fire doors, traditional standard steel doors, or high-performance rolling doors. Furthermore, you must figure out where the roll-up door will be situated and its purpose. This also provides maximum efficiency.
Overhead doors are commonly used for loading docks and warehouses while coiling doors with security grilles are often used in retail and commercial applications. Nonetheless, sectional garage doors are suitable for extreme weather conditions, common in Miami-Dade County. Sectional doors are better at ensuring climate control and improving energy efficiency, especially in Miami.
A professional can provide service and advise you on the model, the manufacturing time, how its constructed, and any other possible solutions.
What Should a Rolling Door Company Do for You?
A rolling door company should be able to offer consultation, a sample, and service. They might suggest installation dates and information regarding adding insulation, security grilles, r-value, air infiltration, wind load, thermal efficiency, etc.
In addition, they also provide maintenance to ensure your door lasts. Their main job is to ensure your door is safe, reliable, and effective for your business.
Our solutions include finding a garage door or roll-up door to suit your needs. Contact our rolling door experts if you have questions regarding a model or how to maintain your door. Our professionals provide a good service and describe the benefits of each model, even if you already have a door installed.
What Makes a Great Commercial Door?
Your door should be durable, secure, easy to operate, and able to withstand heavy use. Always ask about manufacturing processes and choose a material that can withstand the elements. This includes steel, aluminum, and steel.
In addition, the security features such as reinforced frames, security rolling grilles, and high-security locks should be part of the installation, especially if your area is prone to break-ins.
Furthermore, functionality is essential and insulation might decrease energy bills. An overhead door should be aesthetically pleasing for retail stores, as that's what your customers will see. If you have a high footfall, it should be able to open and close as many times as needed.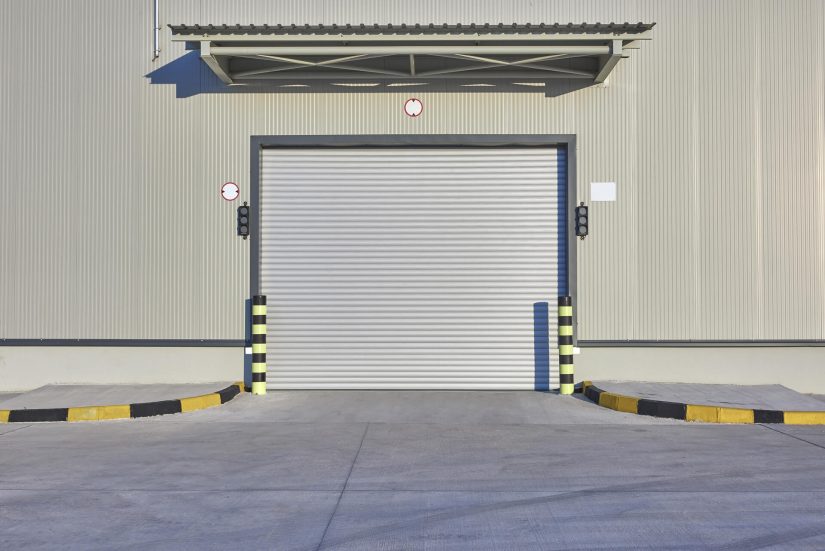 Standard Commercial Door Materials & Features
Most often, overhead doors are fire-rated steel doors. This is due to their strength and durability. By painting overhead doors, you could provide protection against rust and corrosion.
The main feature is that they close automatically if a fire occurs. Industrial door manufacturing companies are connected to your fire alarm system and smoke detectors. The doors meet up to three-hour fire ratings, which could save lives and protect your staff in case of a fire. Other features include:
Insulation: keeping the place warm in the winter and cool in the summer. In addition, it provides a level of soundproofing, which is crucial when running a business.
Motorization: commercial rolling doors may be motorized for ease of use. This is particularly useful in high-traffic areas or when the door is too heavy to be operated manually.
Security: rolling doors can be equipped with locks, alarms, and sensors to protect the building and its contents.
Rolling Service Doors
Rolling service doors are commercial doors that are commonly used in industrial and commercial settings. These doors are designed to provide security, durability, and ease of use. Rolling service doors are made up of metal slats or panels that roll up into a coil when the door is opened.
Rolling Sheet Doors
Rolling sheet doors, also known as rolling steel sheet doors or coiling sheet doors, are commercial doors that are commonly used in industrial and commercial settings. These doors are made up of horizontal steel sheets or slats that roll up into a coil when the door is opened.Contact a team of experienced door experts to assist you in finding the model you require.