Instructions to Install a Roll Up Door
Disclaimer: SAFETY IS OUR TOP PRIORITY
Warning: Installing Commercial doors might require technical skills we strongly suggest to hire an experienced technician to install these type of Doors. A rolling Door is a large object made out of steel that works with assistance of Springs under tension and/or electric motors or chains. Springs,Motors or any large part of the door can cause injuries or death. For everyone's safety please follow these instructions thoroughly.
Safety Warning:
Read the instructions carefully before starting installation, If there are any questions about the product or any of the procedures to SAFELY install the door please do not perform the work and instead contact a local door dealer or installer that is qualified to install these type of doors.
-Operate Door only when it is completely installed and adjusted and free of all obstructions such as ladders, tools etc..
Doors are constantly under extreme spring tension, repairs, adjustments, installation and removal of springs and any related parts are dangerous if you are not familiar with the system.Only qualified door installers should repair or perform any work on springs.
Never permit children to play or operate the door. Children can get caught between the door causing serious injury or death. A roll up door is a commercial/industrial equipment and should only be operated by Adults.
Avoid walking through the doorway path while the door is in motion. If one gets caught between the door and the floor, serious injury or death can occur.
Avoid install the door when weather is adverse or windy, once the curtain is unrolled the wind can blow it inside or outside causing serious injury or death.
-Should the door become hard to open or get stuck, it is suggested to contact a qualified door agency or technician to correct the problem to prevent further damage to the equipment and door and to prevent injuries.
-To prevent injuries due to loose components on the door, check at least every 1-2 months all of the bolt connections and moving parts. A visual inspection is the first step to prevent loose parts from falling on someone. Always make sure bolts are secured and tighten.
To prevent injuries , never place your hand or fingers between the curtain and the guides while the door is in motion. Because of gravity the door can travel fast and can hurt your hand.
The intent of this instruction set is to provide you with clear instructions on how to install a Roll up door on a new opening, If you have a tear out or take down on the opening please consult your local door agency for help in removing the existing door.
We suggest to familiarize with your local codes in your region before starting work, some building codes vary by state and it is always recommended to check before you purchase the door of before you install in order to avoid code violations.
-We highly suggest to wear personal protective Equipment (PPE) before starting installation of the door. Googles, gloves, hard hat and steel toe boots are a few of the suggested equipment gear to avoid or prevent injuries.
-It is always beneficial to consider using a 2-person or larger crew for installing, adjusting and repairing doors specifically when the door is larger than 10′ wide. In addition it is also recommended to use the proper lifting equipment for the size of door you will install. If needed we can provide you with the actual weight of the door for you to consider the right equipment at install time.
This Guide main function is to assist the installer in correctly mounting doors with regards to safety, operation and sound construction, Reference must be made to local and state building codes in your Area. We are happy to assist in finding out your needs based on your location.All of our doors follow the general instruction contained herein. In addition all of the information and Instructions manual for your specific door (Fire Doors, Side folding etc..) are shipped together with the door. Also you can find a list of parts and accessories that comes with each door.
Tools
The tools recommended for proper installation of each door will vary from door to door and various door models. For example if you have a Wind resistant door you might need thicker and longer expansion bolts (usually 5" by 5/16 diameter) as if you were installing a door that is not wind resistant (usually 3" by 1/4"). Depending how heavy your door is (insulated vs non insulated) you might also need different hardware. The list below is a list for the most commonly used tools.
Electric drill with 3/8″ or 1/2″ chuck with nut driver bits.
Masonry drill or impact hammer and bits.
Chain hoist and sling for raising barrel and curtain assembly.
Scaffolding, Mechanical Lift, and/or Ladders (ladders not recommended for larger doors).
Hammer.
Channel Lock Pliers.
Center punch.
Screwdrivers.
Drills.
Wrenches, vise grips, C-clamps, torque wrench, and a large pipe wrench.
Plumb line, tape measure, chalk line, and a water level.
---
Instructions on How to Safely Install a Roll Up Door
STEP 1
Make Sure All Parts Have Been Received.
If Parts are missing notify Industrial Door solution immediately.
Below is a list of all the parts you need to install your door.
STEP 2
Rope and close the area where the door will be installed. This will keep pedestrians away from the opening reducing potential injury to others. Also is always good to have a clear backroom to install the door comfortably.
STEP 3
Read all instructions before starting the work. It is important to familiarize with the instructions before you start putting up your door.
STEP 4
Make Sure the opening is the proper size. Use the image below to make sure of the widht and height of the opening.
Note: When ordering a door the measurements below are critical. Once the door is made it is made bigger to overlap the height and width of the opening.
Check to see that sill is level. If sill is out of level, mark high sill level location on low side jamb.
STEP 5
Check both left and right wall surfaces, and surface at the head (above opening) to ascertain that all three surfaces are in line and no objects obstruct the proper installation of
A- Wall
B- Spring assembly
C- The travel of the curtain
STEP 6
It is very important to know if the guides you received are suitable for the Jambs you have. Below is a diagram that shows the most common jambs applications.
Also if your door mounts between jamb instead of surface mount make sure the right guides were delivered to you.
You can also have a steel tube support condition and the mounting can be between jamb and face of tube. See below. This depends on how the door was ordered.
STEP 7
Verify that guides can be installed Plumb. Check the image below for reference. It is very important to have the top of both Guide angles to be leveled to each other.
STEP 8
Locating Guide Assemblies.
Locate guide assemblies such that "R" Dimension exists between guides as shown. Bottom of guides MUST be on a level line and Guides MUST be plumb. We recommend 1" of play in total for smooth operation and travel of door through the guides.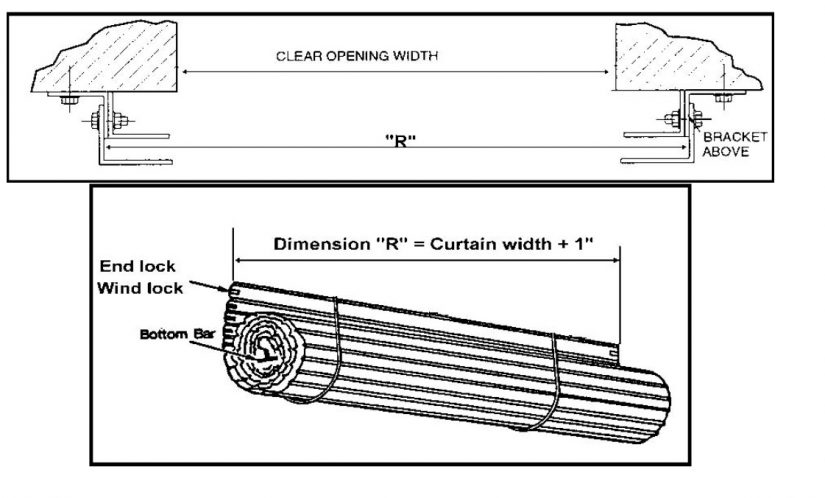 STEP 9
Masonry Jambs
Hold "Z" guide, or wall angle ("E" guide) against wall and drill mounting holes thru the slots. Recheck "R" distance before proceeding. Install wall fasteners.
STEP 10
Steel Jambs. (Screw Attachment Option)
Hold "E" guide against steel jamb and mark the spot to be drilled, or hold wall angle against steel jamb and drill holes thru the slots. Recheck "R" distance before proceeding. Install jamb fasteners.
STEP 11
Steel Jambs. (Weld Attachment Option)
Hold "E" guide against steel jamb and tack weld wall angle in place. Recheck "R" distance before proceeding. Weld using welding electrode. All welds must be good quality 3/16" fillet welds. Weld the angle to the steel jamb along the top of the angle. IMPORTANT: When steel jamb does not extend above the opening, use three thru-bolts to fasten each wall angle above the opening.
STEP 12
Identify Head Plate Bracket
Right Hand Drive shown; Left Hand Drive is opposite.
STEP 13
Identify Barrel Assembly Drive End
Right Hand Drive shown; Left Hand Drive opposite.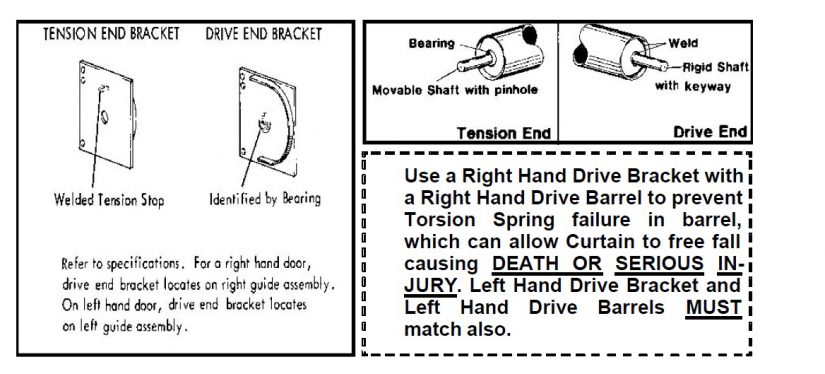 STEP 14
Orient Barrel and Headplate Brackets
Slide Drive End of Barrel Assembly through Drive Bracket Bearing and Tension End through Tension Bracket. Secure Tension Wheel to Shaft using Pin or Key.
STEP 15
Lift Brackets and Barrel and Bolt to Guide Wall Angles
With Forklift or Some Type of Lifting Device Raise Barrel and Brackets to Top of Guides. Use Carriage Bolts to fasten Headplate Brackets to inside of Guide Wall Angles. Bolt heads are to be on inside of Brackets. Brackets are to be square to Wall and parallel. Center Barrel between brackets. Use a level to make sure Barrel Assembly is level.
STEP 16
Drive Assembly
Check for the proper Drive Assembly. Chain Hoist, Crank, Motor.
STEP 17
Installation of Curtain (Sling Method)
Hang the Curtain on two or more Slings or Heavy Ropes capable of suspending the curtain weight. Ropes/Slings MUST be able to suspend the Curtain weight. Fasten the Top Slat to the Slings or Ropes with wire. Rotate the Barrel to bring the Top Slat in place. Center the Curtain between the Headplate Brackets.If the Barrel Assembly has Rings, pull the curtain up and hold the Top Slat against the Rings making sure Curtain is evenly centered on Barrel. Attach Top Slat to Rings with 3/8" Screws and Washers provided. DO NOT strip Screw Threads. If Barrel Assembly has Studs, the Top Slat will have slots to attach to Barrel. Hook Curtain over Studs and fasten with 5/16" Round Head Screws and Washers provided. If Slat Segments are provided at the Top of the Curtain, fasten them to Rings or Studs after Curtain is centered. Then crimp the Slat Curl adjacent to each Slat Segment.
The Sling Method causes less damage than rolling the Curtain onto the Counterbalance while it is on the floor.
Complete Curtain Installation
Coil Curtain completely onto Barrel. If Guides are Flared, then install the Middle Angle and Outside Guide Angles. Place locking pliers on the Guides as shown.Lower Curtain into Guides.
Lock the Drive to prevent the Curtain from falling.If the Guides are not flared, install Curtain StopBellmouth on Guides. A Stud is attached to the Guides to hold the Bellmouth. Be certain the back of the Bellmouth is flush against Headplate.
STEP 18
Applying Spring Tension.
Wind Tension Wheel in the direction shown in figure.Warning this step can be extremely hazardous. Read and understand this section fully before proceeding. Applying spring tension requires two workers for safety. you will need (2) 1/2" to 5/8" steel rods 2 to 3 feet long (not provided) to apply tension to the springs. Slide one of the round bars into any of the holes of the tension wheel. Wind in the direction the pipe would rotate when the door is going up (i.e. adjuster at left, clockwise, adjuster at right, counter clockwise) slide the second round bar in the hole above hold and remove the lower bar. Repeat the procedure until the curtain starts to coil around the spring assembly and stop when the bottom bar be comes visible. Line up the tension wheel stop with the angle stop and slide the stop round bar provided through stop angle and into the hole in the tension wheel. Remove the adjusting bar.
STEP 19
Installation of Curtain
Place a pair of vise grips about 4" down from top on both guide. Insert the ends of the bottom bar into the guide channels, and lower the curtain so that the bottom bar is approximately 4 inches below stop height until the bottom bar rest against the vise grips. Install the two stop bell mouth at front of the guides with the bolts and nuts provided.
STEP 20
Adjust Tension With Door in Fully Open Position.
Adjust tension one notch at a time to increase or decrease torque as required.
STEP 21
Final Checkout. (to Be 'completed Before Installing Hood)
1. The Guides may be lubricated with a Paste Wax or Silicone Spray.
2. Verity thru entire travel of the door that the Endlocks or Windlocks on the end of the Curtain are not rubbing the Head plate Brackets.Operate door several times to check for problems.
3. Çheck that Bottom Bar is level in full down and full up position and that Curtain is not binding against back of Guide.
4. If Curtain is level at bottom and not level at top, put Shims between Curtain and Counterbalance on the low side.
STEP 22
Hood Installation
If Hood Supports are provided, snap a line across top of Head plate Brackets on the Wall. Measure length of Hood Sections and locate Hood Support so that Hood Splice will fall on center of Support.Attach Hood to Hood Bands on Bracket Plates (and to Supports if provided)
by drilling a 7/32" hole through Hood and Band. Then secure with 1/4" dia. x 3/8" long Self-tapping Screws (five per Bracket and five per Support).
This is the last step to finish installation of a Traditional Rolling Steel Door with Spring assisted system. The springs are inside the Barrel and work with the tension wheel on the outside of the head plate. The same instructions will apply to Counter Shutters with Spring system, Rolling Grilles with Springs and any other type of door that does have a spring system to operate except from Fire Rated Rolling Doors.
Below you can find the Installation Instructions for Rolling Steel Doors with Band Spring or Italian Spring system. The tracks method of installation is the curtain is also the same as well as the cover and head plates.The spring system is different. This System can work with Grilles and rolling doors. It is well-suited for places where side room is limited and a chain hoist is not an option. Also Band spring do not have a tension wheel and many times come fully sprung from the factory.
STEP 1 Install vertical guide rails with attached bracket plates as per spec dimensions.
STEP 2 Put pipe into "V" cups, in housing brackets plates.
STEP 3 Spin pipe until you see fold of spring around cross member of spring basket, fold should be downwards, if reversed, take off and turn.
STEP 4 Spin pipe again, so pin at side of basket is facing downward. Bolt pipes to "V" cups.
STEP 5 Slide "S" hooks onto lead slats (as many as spring basket).
STEP 6 Raise curtain an attached "S" hooks to cross member of spring basket towards top of basket.
STEP 7 Pull down on curtain lightly in order to release holding pin at side of basket. If pin does not release, pull out manually. (Make sure "S" book is secure around cross member of basket).
STEP 8 Let curtain wrap around basket then insert into guides.
STEP 9 Check tension, if more is needed, turn each spring box one complete revolution clockwise. If less is needed, do the opposite. If one is to much and only half is needed, then you must hold spring box with level or screw driver to stop spring from unwinding and change the "S" hook to another cross member of the basket either up or down. What ever adjustment is made to one basket, do to all baskets. Do not put "S" hook on cross members that have the spring wrapped around it.
STEP 10 Put stops on guides.
STEP 11 It's a good idea if housing brackets are greased before hood is in stalled.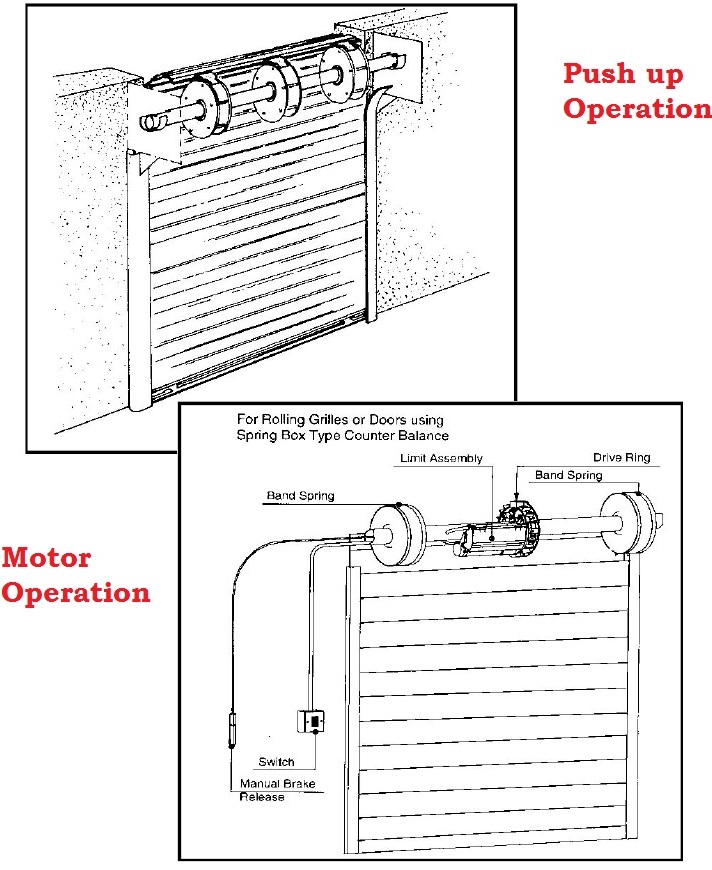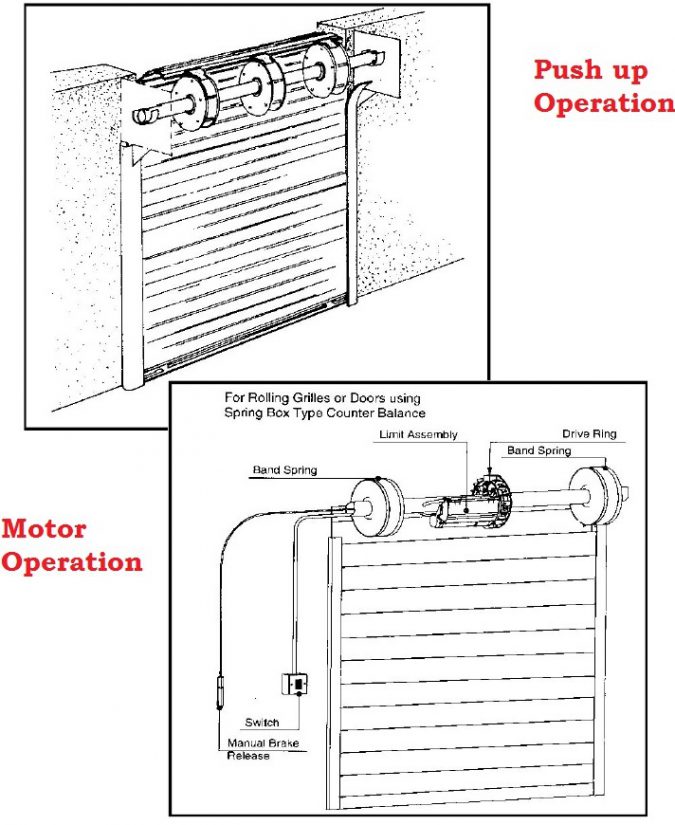 For Doors that come with a Motor operator please refer to the Operation manual that comes with your door inside the Crate. When Installing a motor to your door there are a few things to keep in mind such as: Motor capacity (horse power) Motor Voltage and high and low voltage power connections.Electrical codes vary from State to state, we recommend first to check with local authority before commencing electrical work. It is suggested to hire or consult a licensed or skilled electrician in order to safety hook up the motor to the electrical outlet. Failure to do so can result in damage to your Operator. For options and different motor applications please do not hesitate to contact us.
In addition You can also check our video for visual reference of how to install a Roll up door. If at any time of installation you have any questions please feel free to contact us to for technical support. We manufacture our own doors and we know them better than anyone else. If you have any problems please feel free to contact us.