At Industrial Door Solution we can help you to choose the best specialty application doors for your needs. Contact us today!
---
High Speed Door
High Speed Roll up doors are used at high traffic warehouses where security and efficiency is required. A high speed door is ideal for cold storage, food facilities, pharmaceutical warehouses and other applications where openings need to be closed most of the time but high traffic through them is necessary. With a high speed door you can open and close a door in as quick as 8 seconds. IDS offers and array of options to ensure you get the right product for your application.
---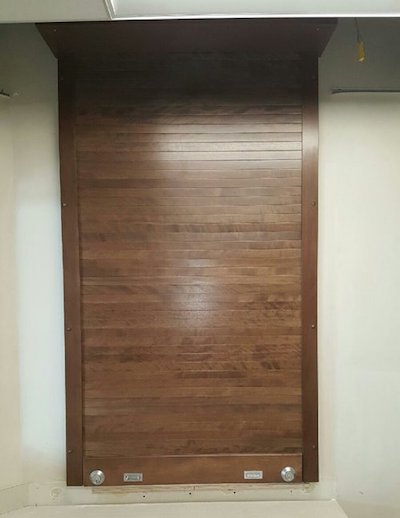 Wood Rolling Doors
Wood Roll up doors are elegant and functional. Perfect for offices , schools and parks. These doors can be manufactured manual, push up, motor or crank. With cylinder locks at the bottom of the door for maximum security. Wood Roll up doors can be made in Oak, mahogany and many other woods.
---
Hydraulic Swing Doors
Contact us for a price.
Hydraulic Swing up doors are perfect for big openings and well suited for the agricultural and aviation industry. These doors are custom made to your opening to ensure maximum efficiency. Wind Calculations can also be provided to ensure they meet local building codes.
---